The current obsessions of homeowners are large open spaces and lots of glass letting in natural light. But sometimes it can go against our other natural predilection: a coziness, closed and private room, somewhere inviting to hide from the world. Here are five easy and affordable tips from Vinrainteriors to help you get coziness & comfortable in the living room with colors, lighting and furnishings.
At the top of the market, architects and interior designers sometimes have to create comfortable living spaces in very large living rooms. How to do? "Large houses can be big gaps to fill and isolated spaces. It's not every day that you organize a big party. "So there is a trend towards hidden walls and moving elements to make the space very flexible, but it's also to make the space more personal.
2. Lighting will give more coziness
You have to bring the light back to a more traditional room. That's why large Drop pendants work well in a warehouse because they allow you to concentrate on a more comfortable level, especially at night when you do not get the natural light that hangs over the ceiling. Lighting makes a larger space more intimate and not empty and also you will feel more coziness.

Good lighting is an essential part of any relaxing living space. Think of it in terms of layers ambient lighting for general use, task lighting for a specific use, such as reading; and accent lighting (for example, light-emitting diodes on the shelves) for a decorative touch. Dimmers are essential. So you can turn off the lights to get a soft and comfortable glow, ideal for relaxing. The ceiling spotlights are only used to illuminate the artwork and project a flood of light onto the coffee table, while the floor lamps are bright enough to allow you to read without you exhaust.
And of course, after the lighting, it's stuffed furniture, carpets, artwork, and cushions to create a sense of place in different areas. Therefore a living room needs a large generous carpet that connects all its furniture to create the impression of being a place of life, usually semi-open. You can add coziness with a screen.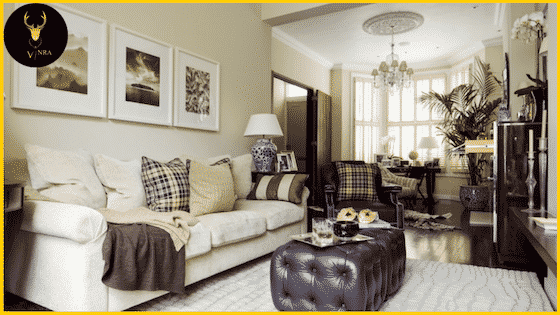 The color depends on your personal choice, but dark, deeply saturated and moody hues, from stormy gray to eggplant and indigo, absorb light and naturally make the space more comfortable. Use brighter, lighter colors to give each thing a lifting effect and prevent it from becoming too dark.
A real fire creates an incomparable atmosphere. Whether it's an old-fashioned open fireplace or a wood burning stove, it will introduce a warm and inviting fireplace into any living room. If you do not want to burn logs or coal, go for a frameless gas fire in the wall. And if you do not have a flue, think of a bio-fire running on ethanol: the flying saucer-shaped models hanging from Cocoon are very elegant in a contemporary scheme.